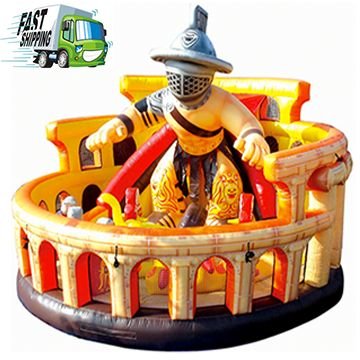 Giant Gladiator Colloseum is worthy of Amusement Them Park status. Ages 6 to 13 years
Actual Size: Length: 32'0" (9.76 m) Width: 30'0" (9.15 m) Height: 21'0" (6.41 m) Weight: 850 Lbs. (386 kg)
Outlets: 2
Age Group: Minimum Height Requirement 40 Inches. Total capacity 6 persons.
Attendants: 1 Ride Attendant. Please note all Ontario Public Events require hiring a Trained Ride Attendant from Partytime Inflatables for this device. Residential customers you must supervise this device during operation.




Gladiator Collosseum Inflatable Amusement Rental
T.S.S.A Licensed for Public Events in Ontario. Installation by a Certified ADMI (Amusement Device Mechanic as required by Law.)
The Gladiator inflatable obstacle from Partytime Inflatables brings out the gladiator in contestants. Kids can battle their way through obstacles, uphill over the climb to the curving slide or if they're feeling brave, enter the ring to spar with one of the pop-up gladiators. Participants can even climb through the belly of a lion and imagine the Roman crowd cheering. With exterior artwork made to replicate the original Coliseum and an oversized 3D gladiator leading the way, guests and passers by are sure to stop and try to compete in this inflatable obstacle course!
WATCH 3D VIDEO BELOW