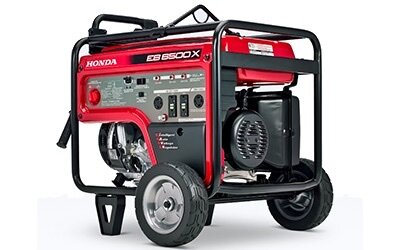 Commercial 6500 GFCI Brand New Model in Stock. Capable of powering 5 Inflatable Blower Fans (Inflatables)




$299.00

Multi Day Save 25% on 2nd Day



Looking for reliable power solutions for your public events? Look no further than our Honda Generator Rental services. Our generators are incredibly quiet, fuel-efficient, and capable of running up to 5 Blower Fans for the inflatables . Contact us today to learn more about our Honda Generator Rental services and take the first step towards a successful event! Available only to customers that are renting inflatables or other equipment from us.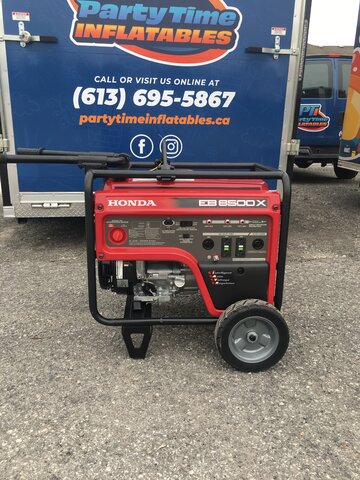 Engine Type
Honda iGX390T2 OHV, 4-stroke, air-cooled
Displacement
389 cc
Auto Throttle
Standard
Starting System
Manual recoil
Fuel Tank Capacity
23.5 litres (5.17 Imp. gal.)
Remote Start Capability
Low Level Oil Alert System
Standard
ELECTRICAL
Generator Type
Brush type
Frequency (Hertz)
60
AC Voltage Available
120 / 240
Maximum AC Output (Watts)
6,500
Automatic Voltage Regulator
Standard iAVR (Intelligent Automatic Voltage Regulator)
Maximum Continuous AC Output (Watts)
5,000 7,000 (iAVR)
Max. Rated AC Amperage @ 120 V / 240 V
45.8 / 22.9 (58.3 / 29.2 for 10 sec. iAVR)
Common Duplex Receptacle Specifications
40 amps/120 VAC continuous is available as combined total from these twin duplex AC receptacles. Maximum of 20 amps available from each GFCI duplex receptacle.
Ground Fault Circuit Interrupter (GFCI)
Standard
High Capacity 120 / 240 VAC Twist Lock Receptacle Specifications
This receptacle will supply 30 amps at 120 VAC continuously. This receptacle will supply 22.9 amps (5.5 kVA) at 240 VAC continuously.

Model
EB6500XCT2
Year
2023
Sale Type
New
Manufacturer
Honda
Engine Size
130 cc
Dry Weight
97.2 kg (214.3 lbs.)
AC Voltage Available
120 / 240
Cold Climate Technology
Standard
Approximate Running Time (hrs.) / Tankful6.9** / 10.4****
** / ***
**At max. rated output (continuous) in Watts. / ****At 50% rated output (continuous) in Watt