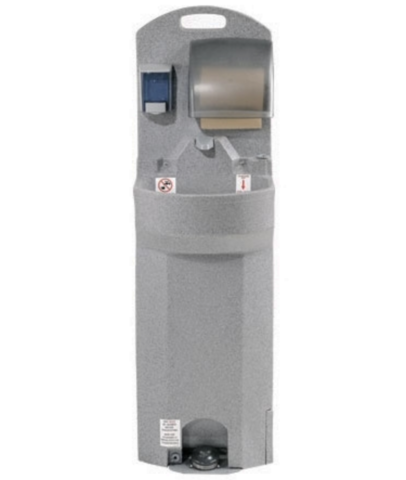 Polyjohn PSW1-2000




$64.99

Multi Day Save 25% on 2nd Day



Customers Renting Hand Washing Stations are required to add our company as an additional insured to their policy for the duration of rental. Proof required.
Great for agriculture, food, and construction work sites.
Protects children in schools, playgrounds, and festivals.
Safeguards food for grocery stores, farmers' markets, and outdoor food vendors.
Height
62 in / 157.5 cm
Width
18 in / 45.5 cm
Depth
22 in / 55.9 cm
Fresh Water Capacity
17 gal / 64.4 ltr
Gray Water Capacity
19 gal / 72 ltr
Pump Capacity (per stroke)
2 fl oz / 59.14 ml
Soap Dispenser Capacity
30 fl oz / 887 ml
Number of Single Dispenses
1088 / 1088
Paper Towel Capacity
1 Roll or 500 Single Fold (Georgia Pacific 23504)
Weight Empty
47 lb / 21.3 kg
Weight Full
189 lb / 85.7kg
Bowl Length
16.0 in
Bowl Width
10.0 in
Bowl Depth
6.0 in
FDA Information
All materials, including resin, pigments and additives used to make the plastic components as well as the plumbing components that come in contact with the fresh water supply are U.S. Government Food & Drug Administration (FDA) food grade compliant materials. In certain geographical areas of the USA, a warning decal, "Not for Drinking or Cooking" is required. This sink is supplied with PC-000782 Warning Decal, which is located directly below the faucet. It is suggested that this decal be replaced if it becomes damaged or worn out. All dimensions are subject to change due to environmental factors.
Filling with Fresh Water
NOTE: Unit must be filled prior to plugging in the heater. Unscrew the 1" fill plug located at the top, right hand side of the wash basin. Insert a standard garden or similar type hose and fill with a few gallons of fresh water to perform a system check. Depress the pump a few times to "prime" it (the pump has a built-in check valve that will hold a prime between uses). If needed, continue filling to the top (which is the 17 gallon water level capacity). Tighten the plug when finished.
Emptying Fresh Water
Drain the fresh water by unscrewing the 1/2" plug located at the bottom of the sink, to the left of the foot pump. Tighten the plug when finished.
Emptying Gray Water
Wheel the sink to a proper and approved drain location. Pull the hose out from the rib on the back of the holding tank, remove the hose cap and empty the gray water. Replace the cap when finished.