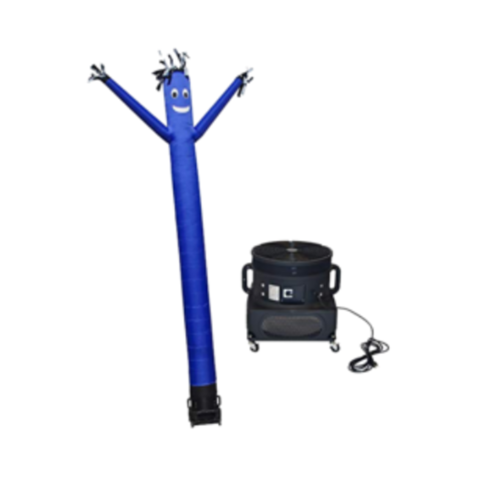 Sky Dancer Rental Includes : Blower Fan + Blue Colour Puppet 18 Feet Tall




$139.00

Multi Day Save 25% on 2nd Day



Dancing inflatables are an innovative advertisement tool for retailers, car washes, car dealers, gas stations, real estate open houses, corporations, event producers and anything else you can think of. This form of promotional display highlights the location and drives attention and traffic to the business or event. Our Sky Dancers help a business stand out from the others due to the eye popping colors and constant movement created by these Air Sky Dancers.
Features:
All Our standard Air Sky Dancers are 20 feet tall!. The material we use for air sky dancers are rip-stop nylon material (parachute material) for better "dance". They are much lighter and more durable than 190D oxford cloth that some other manufacturer use.
All our Air Sky Dancers are 18" in diameter with Velcro lining at the end, and they are perfect fit on every 18" diameter Blowers on the market.
1HP SKYER Blower is the only blower we currently use now, after being disappointed with quality control of other blower manufacturers.
IMPORTANT NOTICE
Do not use near trees, poles, signs or other objects. Your Air Dancer is made of strong, but very thin woven polyester. It can get small holes if not used properly. If your Air Dancer gets torn, use Tear Aid hole repair or Gorilla tape and cover the inside and outside of the rip. It is highly recommended that you do not leave your air dancer up during snowstorms, high winds and thunderstorms. It is also highly recommended to bring your air dancer in at night. If item is lost or stolen the replacement cost is
$700+hst