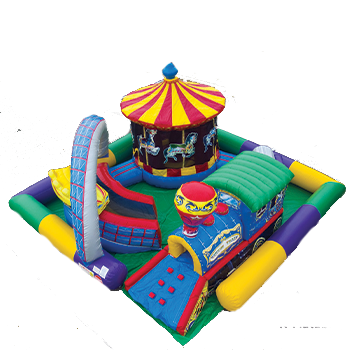 New Arrival Rental Amusement Park Playland
Actual Size: Height 12' 00"Width 25 Feet x Length 25 Feet Weight 495 lbs Operator(s) required 1 *Installers required 2 Patron Height (min/max) 30" / 54" Max Occupancy (8)
Outlets: 2
Age Group: Toddler to 3 year olds. Capacity 8 persons
Attendants: 1 Ride Attendant. Please note all Ontario Public Events require hiring a Trained Ride Attendant from Partytime Inflatables for this device. Residential customers you must supervise this device during operation.




Amusement Park Playland Daily Rental (Toddlers)
Classic favourite inflatables built into a fantastic amusement-park-themed environment, Amusement classic look that will provide great memories for all the little ones!